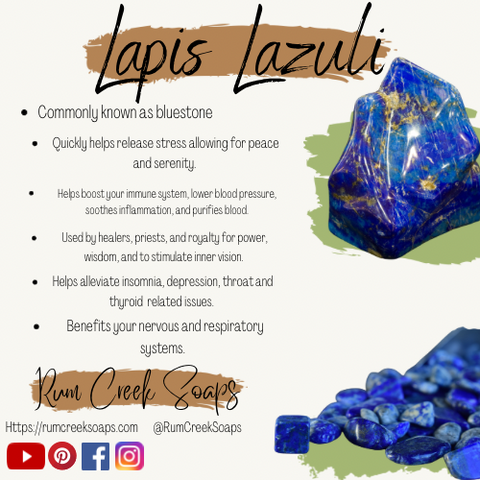 Lapis Lazuli Candle
This is not your average Lapis Lazuli candle, just as unique as it's name. Lapis Lazuli is known for the whole body and soul well being and burning this candle is recommended for those who desire:
- Stress relief
- Deep inner peace
- Mental clarity
- Confidence
- Self awareness
- Love and increased bonds
- All over positive vibe
These are just some of the benefits you will enjoy when you burn my Lapis Lazuli Candle. Burning this candle is paired well with meditation, yoga, relaxation, sleeping, and a better understanding while reading a book.
This candle is 4oz
FRAGRANCE NOTES:
Top: Apple, Eucalyptus, Orange

Middle: Camphor, Pine

Base: Cedar leaf, Woodsy notes
My candles have an approximate burn time of 20-50 hours. This burn time depends greatly on the way you care for your candle. 
Tips from me:
Do not trim the wick before the first burn
Trim your wick to around 1/4" before each burn 
Please do not ever leave a burning candle unattended.
Please burn candles responsibly in a safe location away from children and pets. 
Never place a burning candle near drapes, curtains, books, clothing, or any material or substance which is flammable. 
I highly recommend burning my candles for 2-4 hours each time allowing the wax to melt evenly and completely to the edge before extinguishing. This is especially important for the candles initial burning.