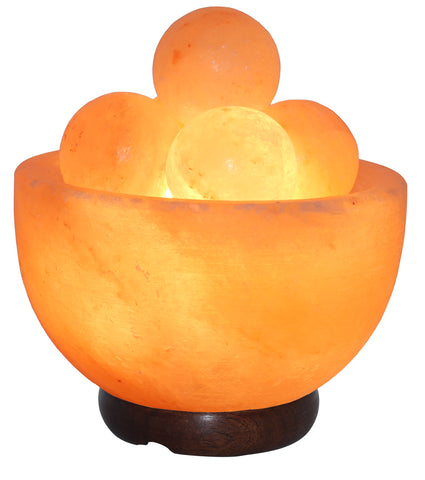 Himalayan Salt Massage Stone Salt Lamp
Dynamic Style
Exclusive designs are available in these lamps and look pretty in both classic interior and stylish place. Due to salt chunks, they look dynamically beautiful and create the soothing effect, required in spas. It is one of the most beautiful lights and a genius idea for living room.
Air Cleanser
Enjoy winters through introducing these lamps at your home, this is because windows are closed and it may result in suffocation. These lamps yield a refreshing effect, helping you relax and unwind at the end of the day. This season purifies the air of your home through ordering these lamps.
User Friendly
Depending on your mood and interior, different lighting effects can be getting from these lamps. The lamp of good quality usually last for years and consume electricity less than other lamps. They come with 6 to 7 inch in size and ready to use.
Features:
NATURAL MATERIAL: Fire Bowl Salt lamp is made from Natural Himalayan salt crystals, hand mined in the Himalayan mountains so every salt lamp is unique in color.
AIR PURIFIER: Himalayan Fire Bowl Salt lamp works to enhance the ionic balance of your living spaces. When heated; Salt Lamp emits negative ions that fight against electromagnetic radiation and purify the surrounding air which helps you sleep better.
HOME DECOR: SALT GEMS Crystal Salt Fire Bowl Lamp is perfect for Home and Office decor in the day and even better at the night when its gentle glow envelops surrounding with its amber. When it is lit at night, it does create a sense of comfort and relief from fatigue and stress.
SOLID WOODEN BASE: Appropriately sized per crystal size. Durable, shrink-resistant, termite-resistant, crack-resistant and corrosion-resistant.
WARRANTY: If the ordered lamp is broken or come with any fault, we guarantee to replace with the new one within 30 days. While returning the lamp, we do require, it must be returned as delivered (with an electric cord, bulb and in the original packaging). *Note: The bulbs and cords for salt lamps which we sell are new/unused (Functionality Tested). However, we do not offer any warranty or accept returns for burned or otherwise used bulbs.
Product Dimensions: 6 x 6 x 5 inches
Assembled Height: 6 inches
Assembled Length: 6 inches
Assembled Width:  5 inches
Blade Color: Varying in color naturally. Pink, Light Pink, Orange, Light Orange, Red
Material: Wood, Crystal Salt
Shade Color: Hues of Pink and Orange
Shade Material: Wood, Crystal Salt
Fur Description: Each lamp will be a unique piece - no two are ever the same - varying in size, shape and color, Hand Chipped Salt Stone, Dimmable Cord, Wooden Polished Base.