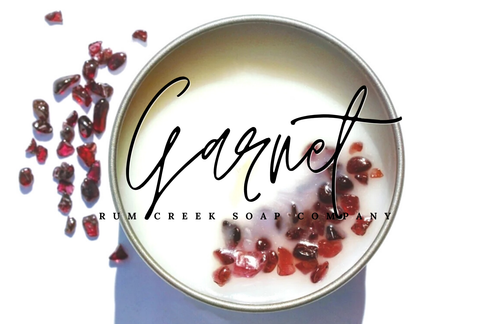 Garnet Candle
I have handmade this Garnet candle with herbs and oils whose sole purpose is to uplift, motivate, empower, help you feel the love, and support you! 
I have beautifully sprinkled Garnet on top of the candle as it promotes passion, self-worth, inspiration, and mental clarity.
Garnet is known for providing support in your health. It does so by: 
Aiding in weight management

Improving blood circulation in your whole body

Strengthening your lungs
You haven't truly indulged in self-care until you add this Garnet infused candle to your routine! 
4oz
FRAGRANCE NOTES:
Top: Apple, Eucalyptus, Orange

Middle: Camphor, Pine

Base: Cedar leaf, Woodsy notes
My candles have an approximate burn time of 20-50 hours. This burn time depends greatly on the way you care for your candle. 
Tips from me:
Do not trim the wick before the first burn
Trim your wick to around 1/4" before each burn 
Please do not ever leave a burning candle unattended.
Please burn candles responsibly in a safe location away from children and pets. 
Never place a burning candle near drapes, curtains, books, clothing, or any material or substance which is flammable. 
I highly recommend burning my candles for 2-4 hours each time allowing the wax to melt evenly and completely to the edge before extinguishing. This is especially important for the candles initial burning.